Over the past two weeks, there's been considerable discussion on whether developers should be on-call.
I understand the frustration of the anti on-call party. If you go to school to be a doctor, you know that being on-call is likely in your future. You didn't know that being on-call would be a part of your job when you started writing code.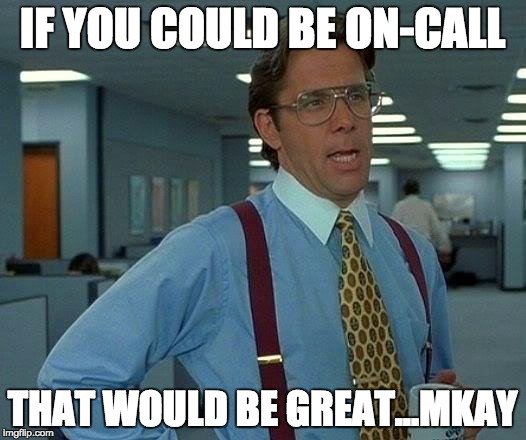 Like the anti on-call party, I find no immediate joy being on-call. But today, you're swimming upstream if you are a developer and don't want to be on call. In Who owns on-call?, Increment surveyed over thirty industry leaders about their on-call rotations. All but one had developers on call (Slack), but that is changing:
Crowley says that they've recently started to see scalability problems with the old way of operations, however, which led Slack to create a secondary on-call rotation full of developers; software and performance bugs, he says, are becoming much more common than low-level infrastructure problems—bugs that only the development teams know how to fix.
To me, it's a no-brainer: if the root cause of most incidents are hardware and network partition failures, then it makes sense for operations to be on-call. They are the ones familiar with those systems. However, if the majority of problem lie within code, a developer needs to write the fix. The underlying infrastructure our apps sit on top of is becoming remarkably more reliable, which means developers are gaining more responsibility (that's a positive spin, right?).
Over the past decade, I've primarily worked on small, fast-moving development teams. I've always valued my time away from the office and believe our developers should too. Developers have always been apart of these on-call rotations and I haven't hated this experience. Below are five traits I've seen from teams that have a healthy relationship with being on-call: